Participants of events won't accept 5 minutes of Q&A or an endless row of speakers, these days. They want to truely participate and they want to matter! These fully interactive workshops help you to change meetings, from speaker-oriënted to participant-centric.
We teach you how to make formats more active and how you can get participants to be more involved. Easy, accessible and with no extra costs.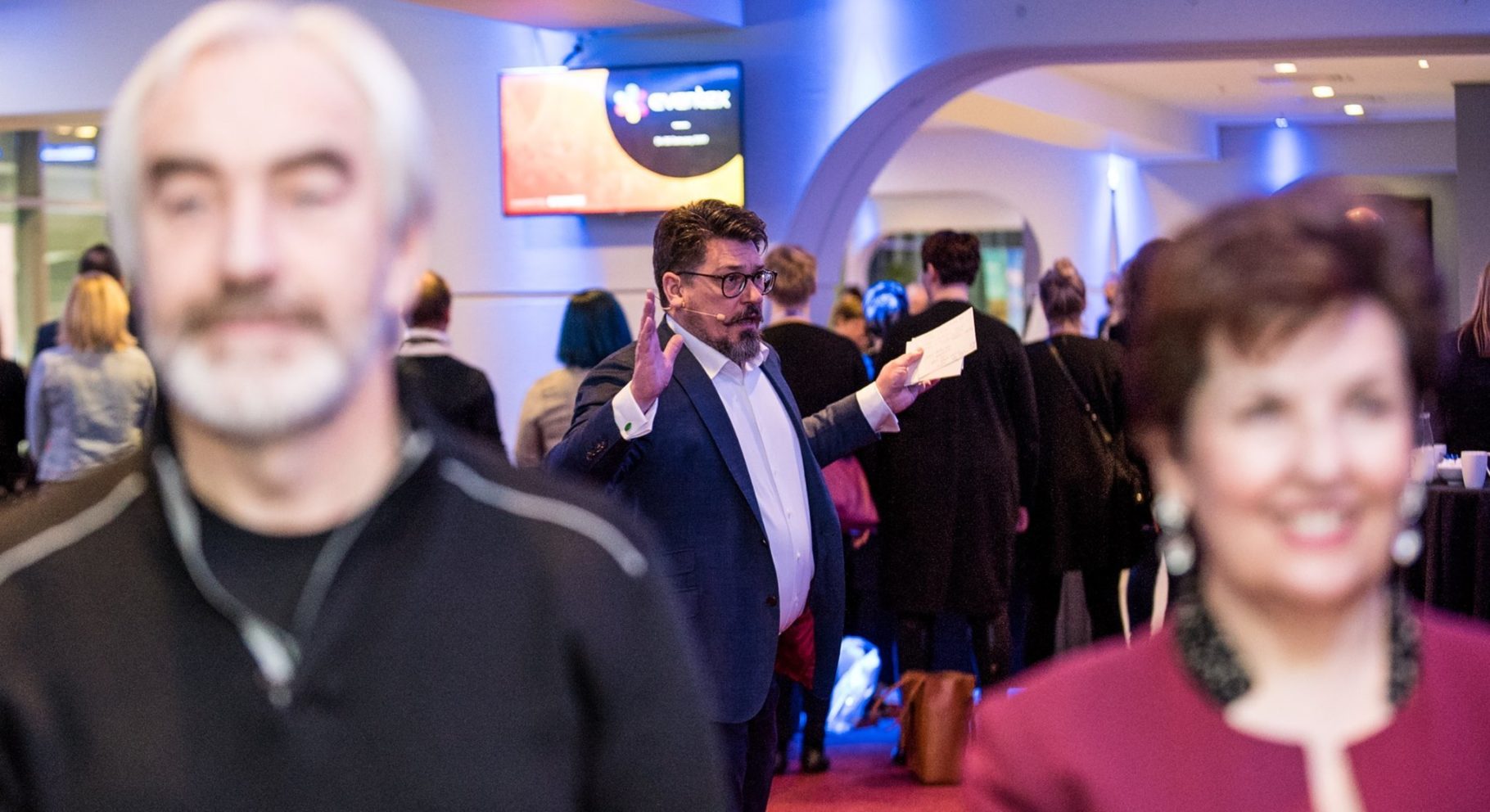 We will help you investigate and experience how interactive formats make your traditional meetings more fun, more energetic and more effective.
You will learn which posibilities/tools to choose fromand how to use them. In that way you will help speakers share their information more effectivily and ensure that the participants process and apply the learnings better.
We work with a maximum of 15 participants per trainer.
Topics will be:
Alternatives for speakers: other formats to inform and inspire

Conversational formats: panel, talkshow, interview, campfire, open space, world café … which do you use and how?
Interactive work formats: bodyvoting, buzzing, storytelling, networking, peer2peer formats ... get participants active and in contact with each other
Networking & co-creation: participants get to know each other and help each other

Micro-moderation: easy and quick engagement with participants;
Location and venue set up: which venue and which room set up works best?
In this in-depths workshop, we work on one of your own formats (preferably one that is still in development). You will go home with a firm base for a revised program, that is going to be engaging, energetic and effective
For a maximum result, we work with a maximum of 6 participants per trainer.
Topics will be:
Setting objective(s): only with a clear goal, the format can be effective
Formats & tools: what has which function within the format? How do you define sub-goals? And which formats & tools will have the desired outcome?
Creative thinking: how to surprise yourself and your participants, while still being strong on content
Location and venue set up: which room and which room set up works the best in this case?
Is it something for me?
This workshop is suited for you if:
your employer asks you to organize and design meetings
you want to advice your client better about their format
you are a moderator and want to make better use of your expertise
you want to make better use of the power of interaction
you want to modernise traditional meetings
What does it cost?
Level 1 costs € 595 (plus VAT). The self-employed only pay € 395 (plus VAT)
Level 2 costs € 595 (plus VAT)
When is the next workshop?
Currently, no international workshops are planned, due to the Covid-situation.
We are open to discuss in-company trainings. Our workshops 'Online Moderation & Meeting Design' might be a good alternative.
Where can I ask questions or register?
Please contact info@mastersinmoderation.com or +31 646 113 994
Is this workshop also available in-company?
By all means! And we will gladly tailor it to your needs. A long list of organisations already worked with us.
Get in touch and we'll talk: info@mastersinmoderation.com
Terms & Conditions
To all our workshops, these rules apply:
The registration is only final, when you downpaid 50%.
The full registration fee should be on our account, 4 weeks prior to the training. If not, we can give your spot to someone else, without restitution.
When you cancel, there will be no restitution. You're allowed to sent replacement. When we find you a paying substitute participant (and we will try our best), we can offer you a place in an upcoming workshop at no extra charge.
Finaly: we are not the devil. We can always discuss solutions. And in case of force majeure, we will ofcourse find a way to settle.
Learn how to design more effective meetings

More interaction, dynamic and fun in your events

Happy, engaged participants guaranteed